You might be a homeschool mom if…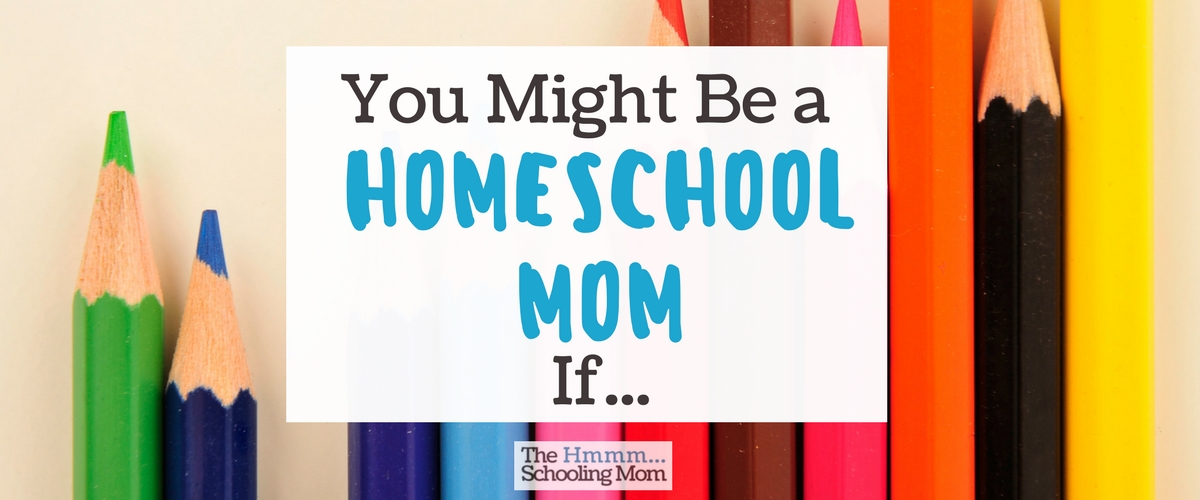 Recently, I asked several of my favoritest homeschool moms how it was that they finally knew they were a homeschool mom (besides, you know, homeschooling their kids). What were the things that screamed, "oh my word, I am totally a homeschool mom!"
After a lot of giggles, I am happy to present to you this list. How many of these "living the homeschool mom life" things can you identify with?
You might be a homeschool mom if…
—Twinkies, Peeps, and Gummi Worms are on your grocery list—because you're going to use them for a science experiment.
—conversations with your adult friends have, at one time or another, revolved around what the coolest thing is that you've ever blown up in the microwave.
—you still think the best thing about public school starting back up is that suddenly, the local library and park are yours again—even though your husband reminds you that you do not actually own these things.
—someone asks you what grade your children are in, and you don't know how to answer. (Kimberly, 6 years homeschooling)
—you look forward to teaching measurement because it means you'll have more help in the kitchen. (Lynna of Homeschooling Without Training Wheels, homeschooling 8 years)

—while playing Legos in their room before bed, your children casually discuss the electromagnetic spectrum. You realize yes, they were listening to your science lesson today.
—you aren't sure what hit you, but the evidence that homeschool DID happen is all over the end tables, the kitchen table, the floor, the foyer…and someone is still asking for a sharpened pencil with an eraser—that is always a prize find on a Monday morning! (Tricia of Hodgepodge, homeschooling 16 years)
—on Sunday morning a line in a hymn uses the word atmosphere and you whisper in your son's ear remember the layers of atmosphere from your science lesson? and he answers back mom, do you always have to talk about school? (Stacey of Layered Soul, homeschooling 17 years)
—the dead bird you find in the backyard becomes a science lesson. (Ticia of Adventures in Mommydom, homeschooling 6 years)

—your son pulls a huge piece of dead skin off his foot and instead of grossing out, you say, "let's put that under the microscope."
—you despise being called a stay-at-home-mom. "Did you just refer to me as a SAHM? I am the Matriarchal Academic Ninja! That makes me the M-A-N!" (Jennifer of Hifalutin Homeschooler, homeschooling 4 years)
—your kid asks you why crayons exist and it turns into a two hour research project with an oral report at the end. (Rachel, homeschooling 4 years)
—the dining table centerpiece is a globe. (Michelle of The Heart of Michelle, homeschooling 17 years)
—you tell your children you're going to do an experiment with them about explosions, and your son ends up disappointed when it's all over because "all you did was mix baking soda and vinegar together. I thought we would get to play with TNT. Besides, the house is still standing, so we really didn't blow anything up." (Kimberly)
…and you might be a homeschool mom if…
—you spend a lot of time saying, "actually, socialization means…" because that's all that non-homeschoolers can think to talk to you about.
—the only thing you have in your freezer is a cow eyeball for dissection day. (Jennifer, from Forever For Always No Matter What, homeschooling 11 years)
—it's totally okay that you might make out with the principal.
—your go-to response is "let's google it." (Michelle)
—you're willing to spend $100 on the perfect curriculum, but won't spend more than $10 on shoes for yourself. (Kimberly)
—you have anatomy models, owl pellets, and both a preserved blowfish and alligator skull in your kitchen next to your cookbooks. (Colleen of Raising Lifelong Learners, homeschooling 6.5 years)
—watching board game reviews on YouTube counts as professional development. (Lynna)
—you can (and totally do) take advantage of second breakfasts. They are a real thing.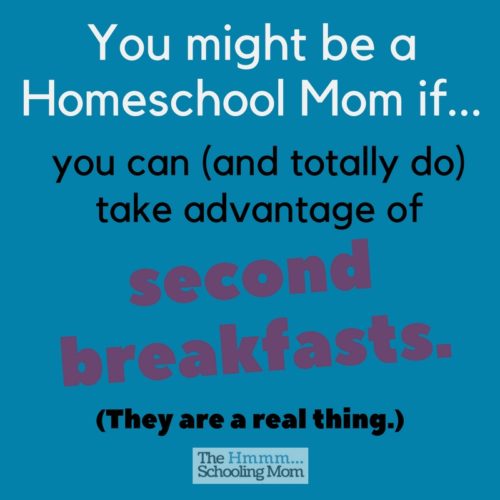 —your school lunches are amazing, and your kids can eat until they are full.
—you have a jar of worms on your dining room table for observation. (Sara of Happy Brown House, homeschooling 4 years.)
—people at the park ask you, "but how will they learn to talk to people?" while your kids are off, you know, talking to people.
—history (and science, and math, and reading, and…) happens with a cat on your lap, a dog at your feet, and a coffee mug in your hand. (This goes for both you and the kids.)
—your annual "field trip" is to a local potato field to pick potatoes for the winter. Truly a field trip! – (Stephanie, homeschooling 15 years)
—you find a harmonica, a wish bone, AND a porcupine quill in your child's pocket. (Cait of My Little Poppies, homeschooling 3 years)
—you can't go a week without someone telling you they don't know how to do it. (Breanna, second generation homeschooler, homeschooling 4 years)
—you thought you were teaching your children something.. but it turns out they're the ones teaching you. (Kimberly)
..and you also might be a homeschool mom if…
—the day's lessons includes exploding experiments, a walk through the local wildlife preserve, and meal plan budgets. – (Crystal, homeschooling 5 years)
—a trip to the grocery store is a field trip. (Michelle)
—you no longer keep track of staying in the budget while shopping because that's now part of your kid's math lessons. – (Brenna)
—you hear the school bus go by the house and you're still in bed. (Ann of Annie and Everything, homeschooling 18+ years)
—your children learn while being dressed as superheroes and princesses. (Kimberly)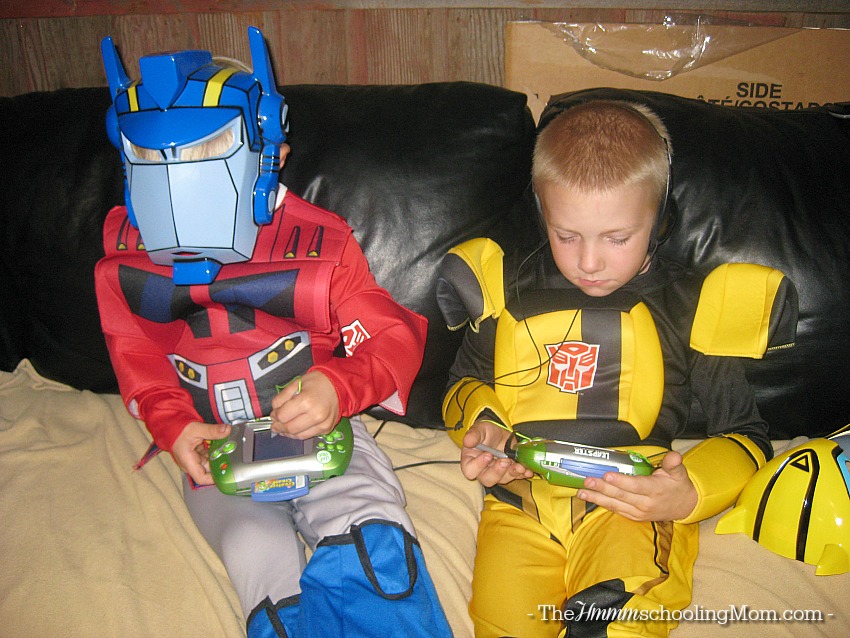 —your wall decor is educational. (Brittany, homeschooling 2 months)
—your children falling apart in tears and frustration gets to end with you holding them and helping them handle their emotions, instead of everyone having to "suck it up" and pretend that we all feel great because we don't have to be anywhere and we don't have to do anything until we're emotionally ready. (Kimberly)
—you start your own business and your kids divvy up who "gets to" do invoicing, spreadsheets, photography, advertising, shipping, and so on. (Lynn, 8 years homeschooling)
—when someone mentions a historical date or president and you bust out in a song. (Mary of Not Before 7, homeschooling 9 years)
—you don't have snow days off, you have perfect weather days off instead. (Dawn, 5 years homeschooling)
—your 7 year old asks "Mum, is today a school day?" whilst you are swimming at the beach on a Sunday (Belle, homeschooler 5 months)
—the neighbors peek out of the blinds every time you're in the yard because they think you're some kind of weird cult. – (Crystal)
—you get to be there when your children have that "aha moment". (Kimberly)
…and last but not least…
…You might be a homeschool mom if you're reading this list and smiling, laughing, or nodding your head.
If you're a homeschool mom, you might identify with some of these posts:
Reasons to Homeschool: The ONE that Mattered to Us
Always Together: How to Handle Relationships in a Homeschooling Family
What Kids Think About Homeschooling
Homeschooling Community: You Had ONE Job
---