Pinterest Bustin': Ice Cream Bread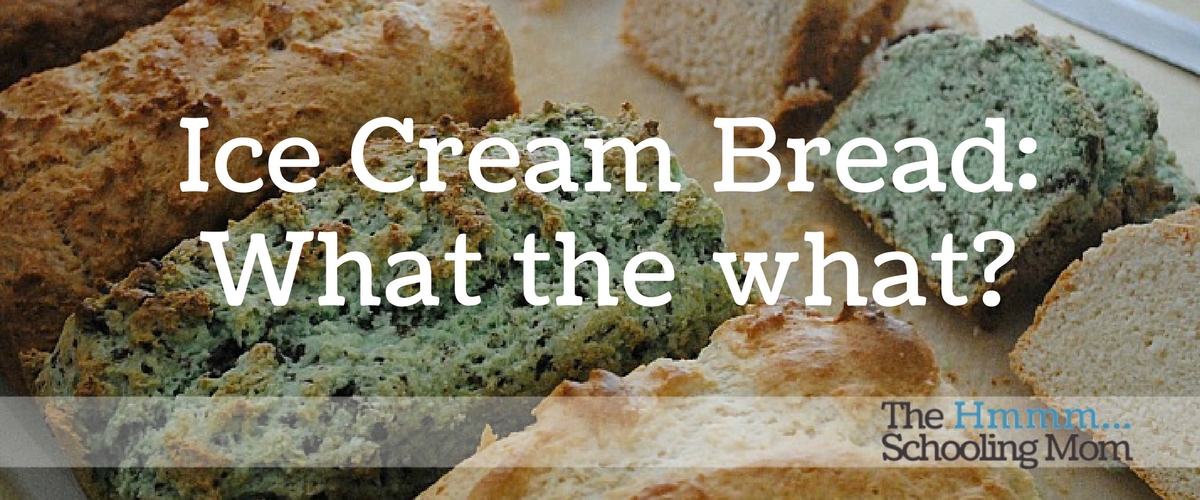 When my Pinterest Bustin' sons heard about a recipe for ice cream bread, I knew it would be on our list to try. I mean, anything with ice cream has to be a hit. Right?
It's a simple recipe containing just two ingredients: 1 1/2 cups self rising flour, and 1 pint ice cream, any flavor.
The Pinterest Bustin' Hmmmschoolers wanted to know was it possible to really make bread from two ingredients?
Procedure – (found on a pin that ended us up at Your Modern Family:):
Preheat oven to 350. Place the ice cream at room temp for 30 minutes (until soft but not melted). Put all the ice cream in the bowl and add the flour, stir until well blended.
Four Pinterest Bustin' Hmmmschoolers made their own loaf (in a greased 7 or 8 inch pan) and it was interesting to see how ice cream flavors all set out at the same time stirred into different consistencies. This peppermint bon bon was almost like playdough.
The batter is so thick, you can tip it over and it won't come out! (Maybe we should call it Blizzard Bread, like Dairy Queen?)
Bake for 35-45 minutes at 350.
So does it work?
Technically, yes. It definitely looks like bread. It looks like beautiful bread! But the problem with thinking ice cream bread is that you're thinking "flavorful", "sweet", and, well…"ice cream". We all agreed that these breads tasted rather plain compared to what we had already set our tastebuds for. They did taste better the next day, after they had time to sit, but we agreed we probably wouldn't make them again. The flavor just wasn't there.
The question we kept coming back to, even before the bread was finished, was: who in the world would sacrifice an entire pint of ice cream to make a loaf of bread?
Pinterest Busters, I guess. Hey, we do what we have to do.
---