Magic, Battles, and…Creative Chemistry?
My sons have always been into games of magic, battles, and spells. You wanna make friends quickly at our house? Do a little name-dropping of words like Pokemon, Yugioh, or D&D and you'll have my sons' ears perking up in no time.
So when we were asked to check out a game called Quest for Arete, my boys were all over it. Spells and magic and a lil' bit of chemistry type stuff? Yeah, baby. Bring it.
I was compensated for my time reviewing Quest for Arete. I was not required to give a positive review because, yo, you can't force me to say something I don't believe. All opinions are mine.
Quest for Arete: In the real world, this is the magic.
Quest for Arete is an educational card game intended for kids 12 and up (but can certainly be played by younger kids with parental/older sibling help.) This game is set in medieval times and revolves around magicians and sorcerers. Players duel each other using magical elements that are combined to make potions and spells—that's where the cards come in! The purpose of the game is to increase your experience, your knowledge of the "elements", and your Arete—which means excellence.
This game is all about dueling, but that's not where we started. It is suggested to begin learning about Quest for Arete by playing Arete Rummy. It's a great way to figure out what the cards are like and how to create a spell before jumping into an actual duel. (Here is a great video that explains the cards and how to create a spell.)
The boys played Rummy quite a few times, and agreed it was a good place to start. One of my young gents commented, "It's good to have a handle on how the cards work and what's on them before you jump into a duel."
Is dueling complicated?
Moving on to the first duel: At 12 and 13, I gave them the book of instructions, the link to the website, and said, "figure it out". They had no issues at all!
Basically–
Player A creates a spell (an attack) using some of the cards in their hand. This spell will be worth a certain number of points—for the sake of argument, let's say 14 points. Player B then creates a spell (a defense) using some of their own cards. This spell will also be worth points—let's say 8 points. Only the attacker can earn points and the amount is determined by what the defense didn't take away from them. So in this case, the attacker earns 6 points (14-8.) In the next turn Player B is the attacker and Player A is defense. Repeat this on and on until someone reaches 25 points or until you're like, "boys, seriously. You have to take a break. Your food is getting cold."
Does Quest for Arete teach real chemistry?
In Quest for Arete, the elements behave and combine in ways that wouldn't necessarily work in "real life". The elements are real, but the chemical formulas are totally made up – it's a fictitious game! Quest for Arete certainly gets kids comfortable with chemical symbols, names, valance electron counts, and how to read a chemical formula. Your kids can take this knowledge and certainly apply it to the chemistry concepts that are found in "real life"!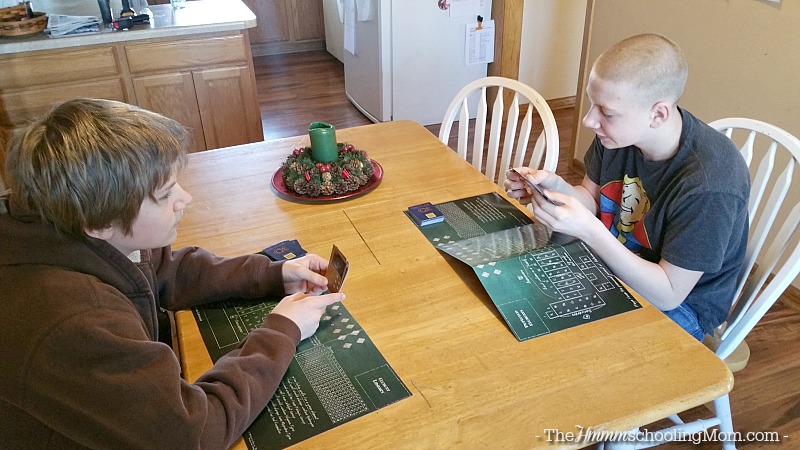 Oh! And not only does it teach chemistry concepts, but there is math in this, too. It's amazing how kids won't complain about doing math when it has to do with their score. even when it's a multi-step equation. There's also a lil' bit of Roman numeral action going on in Quest for Arete. Boom.
Did my sons like playing Quest for Arete?
At our house, we're all about the games. So did the boys enjoy this one? Yes. Know how I know? They asked to play this. My boys don't really ask to do much of anything lately, except to go to Game Stop or eat more food. The fact that they actually asked hey, can we get that game out again? tells me they truly enjoyed it.
My 13 year old's opinion: "It's a fun game. Sometimes learning a new game is intimidating but this worked out great in the end. It's a lot of resource management, which I think is super fun! Mom, resource management means, like, I'm saving my x for y, and figuring out how to best use your cards to make the most effective spell. It's strategy stuff."
My 12 year old's thoughts: "Yeah. I really like playing this game. It's satisfying to save your cards and have it work out in a good spell. I really enjoyed the game, it was fun to play. It's sick. (Which apparently, fellow mamas, means good.)
If you're interested in checking out Quest for Arete, you can find the starter kit (what we have!) here.
There are also card expansion sets to make your decks (the ones you're using to make spells and duel) even more awesome. There is a Sorcerer expansion set, an Alchemist expansion set, and an Armorer expansion set.
You can find out more about Quest for Arete and the family behind its creation by visiting their website. Quest for Arete is also on Facebook, Twitter, and Instagram.
---