How to teach writing to high schoolers…when it came naturally to you
Friends, the time has come where I need to teach writing to high schoolers. But I'm having a bit of an issue.
See, I've always been a writer. I can't remember a time I wasn't creating stories and writing them down. Writing came naturally to me. I had many teachers who helped me hone my craft and develop my skill, but creativity—and the structure of sentences and paragraphs—always seemed to just be a part of who I was.
You would think being a writer would make it super easy to teach writing to high schoolers. You know, especially if they are your own kids?
Friends, this is not necessarily true.
---
Heads up. I received a free copy of WriteShop Level I, and was compensated for my time.
All opinions expressed here are my own, and I was not obligated to give a glowing review.
Which is nice, because really—no one can tell a homeschooler what to do, right?
---
Teach writing to high schoolers? Not as easy as I thought it would be, and I could use some help.
When writing comes naturally to you, it's hard for you to a) understand why your kids don't get it and b) explain the how-to of things that you never needed explained to you.
With the exception of Life of Fred and Story of the World, we've never been drawn to curriculum. We were more what should we learn today and strew things about and learning straight from life.
However, as we quickly move through high school towards PSEO and college, the boys have expressed a desire to spend more time learning the fundamentals of writing. I had to find something to teach writing to high schoolers because—oddly enough—I knew I wouldn't be of much assistance in explaining anything.
Enter WriteShop.
What is WriteShop? What comes with it?
WriteShop is a creative writing curriculum available in levels all the way from kindergarten to high school. And I won't make you wait—it's pretty awesome.
Since I was looking to teach writing to high schoolers, we chose to start with WriteShop Level I. It is described as providing a solid writing foundation for 6th-10th graders, and that fit what my sons were looking for. WriteShop Level II (which we will move into) is suggested for advanced writing concepts for 8th-11th graders. It is generally suggested to complete WriteShop Level I before attempting Level II.
WriteShop Level I comes with both a consumable student workbook (pre-punched looseleaf sheets for your three ring binder) and a spiral bound teacher's manual. Note: The student workbook is also available as a ebook!
Be aware, the student workbooks are not standalone. They will not make sense if you don't have the teacher's manual. But the teacher's manual for Level I also contains Level II, so when you try WriteShop Level I and love it, you only need to buy the student workbook for Level II – you've already got the teacher's manual for Level II!
How is WriteShop setup?
WriteShop Levels I and II can be completed following a three, two, or one-year track—this refers to how long it will take a student to get through both Levels I and II of WriteShop. For instance, the two year track refers to completing the high school writing curriculum (Level I and II) in two years; the one year track means finishing both Level I and II in one year. Following the two year track means a lesson takes two weeks; the one year track means a lesson is completed in one week.
While dipping our toes into the first lesson, we opted to follow the two year track. Although my sons had asked for more help with their writing, I wasn't sure how they would take to a writing curriculum. However, the boys demonstrated they were totally up to following the one year track—admittedly more vigorous, but definitely something they could handle.
Responsibility, independence, and the growing drive to take it all on—that's one of the benefits of teaching writing to high schoolers. Homeschooling teens can be easier, y'all!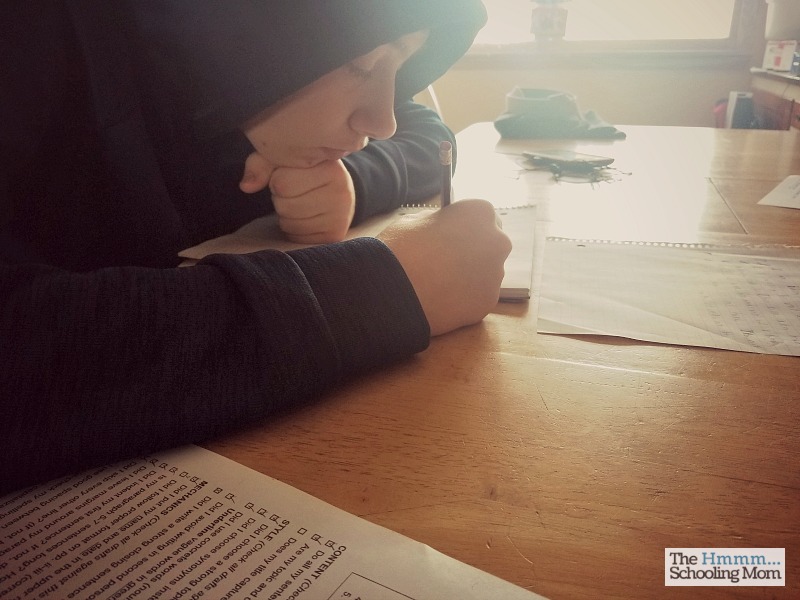 The purpose of each WriteShop Level I lesson is to craft a wonderfully written, creatively descriptive paragraph about a topic that is provided—for instance, Describing a Food, Writing a Concise Biography, or Another Person's Experience. 
So what all is involved in a lesson?
A pre-writing activity to get the brain moving
A practice paragraph on the given topic (you work on this together)
Brainstorming (which the student does alone with a provided worksheet or by making a mind map)
Sloppy Copy (otherwise known as a first draft)
Self-editing of the sloppy copy (which your child does to their own work with the help of a checklist)
First Revision of the Sloppy Copy (otherwise known as a second draft)
Parent Editing Day (where you edit your child's first revision, with help from your own checklist)
Final Draft (written by your child, taking into account your editing marks and suggestions)
Grading the composition (done by you)
The timeline you choose to follow (three, two, or one year plan) will determine how many days a week you're taking on these tasks.
As you're working on the crafting of the actual paragraph, there are other skills (called Skill Builders) to work on that week as well. For example, in the week we worked on the Describing a Food paragraph, there were Skill Builders about how to choose an appropriate creative title. In the week we will work on the First Person Point of View paragraph, there will be a skill builder about practicing tense agreement. We've worked on skill builders having to do with its vs it's, choosing synonyms, and using paired adjectives.
These skills (and more) are all super important things to keep in mind when teaching writing to high schoolers, but are admittedly things I would have spaced on if left to my own devices.
Things I really love about WriteShop
Reason #1: WriteShop I helps explain things that I wouldn't have known I needed to explain, and I love that everything is all spelled out in chunks that make sense to me. As a writer, I know how to write. But in trying to teach writing to high schoolers, I've never been sure how to break things up into digestible bits of skills that would build upon each other and stick. WriteShop I does that perfectly for us—it doesn't just tell us to write a paragraph about a topic, it picks things apart into just the right amount of steps and tips—beginning with how to brainstorm (and brainstorm well!) for that topic, to how to choose just the right words for what you want to convey.
I'd be lying if I said that I hadn't picked up a trick or two from WriteShop so far.
Reason #2: WriteShop I doesn't just provide lesson plans, it also provides a whole mess of helpful tips and resources in the back of the teacher manual. Your kids (or you?) need to see some writing samples? Looking for examples of common issues in writing (because, really, the things your kids are struggling with are probably pretty normal)? Not sure what to tell your kids besides good job or you need to change this? We've definitely made use of the back of this book.
Reason #3: I love that there are three drafts and that the kids self-edit for one. As a writer myself, I think it's important to realize that no one's first draft is perfect, and several re-writes are necessary. It has been fun for my kids to see how their writing improves throughout the week with each re-write, and that what they originally thought was amazing in their sloppy copy draft actually can be tweaked and improved.
Reason #4: I love that the grading of the composition is all laid out for me. WriteShop I tells you exactly how to grade your child's work. I love this because it breaks down exactly what I'm looking for, but I also love it because my kids know the grading is honest. They don't get a yay, gold star! just because it's mom grading the assignment.
If they failed to do something that's on the checklist or could have done better in one certain area, it's very clear on the grading form. It helps them be confident that they've actually earned the grade they're given. (And oddly enough, my sons are suddenly interested in knowing what grade their work warrants. Perhaps it's something about college looming on the horizon?)
All in all, using WriteShop I to teach writing to high schoolers has been very successful for us. The work my sons are turning out has not only become far more organized, but more creative as well. The writing they would have struggled through and dismissed as good enough in years past is no longer a thing. They are confident in their growing writing skills and creativity as well.
And that's no thanks to me.
That's all WriteShop I.
WriteShop offers many products, and has been a great addition to our home. You might enjoy it, too! And hey…who doesn't want a freebie…
WriteShop subscriber freebie: Journal All Year! Writing Prompt Calendar Bundle
This bundle includes a total of 480 writing and essay prompts to inspire both elementary and teen students for an entire calendar year! You get two different products with a total value of $7.00:
Print the prompts in your choice of three formats: calendars, cards, or strips. Go here to get this free offer. Freebie is limited time offer.
Do you need to teach writing to high schoolers? Want to know more about WriteShop? You can connect with them on Facebook, Pinterest, and Instagram.
---