The Gift of Encouragement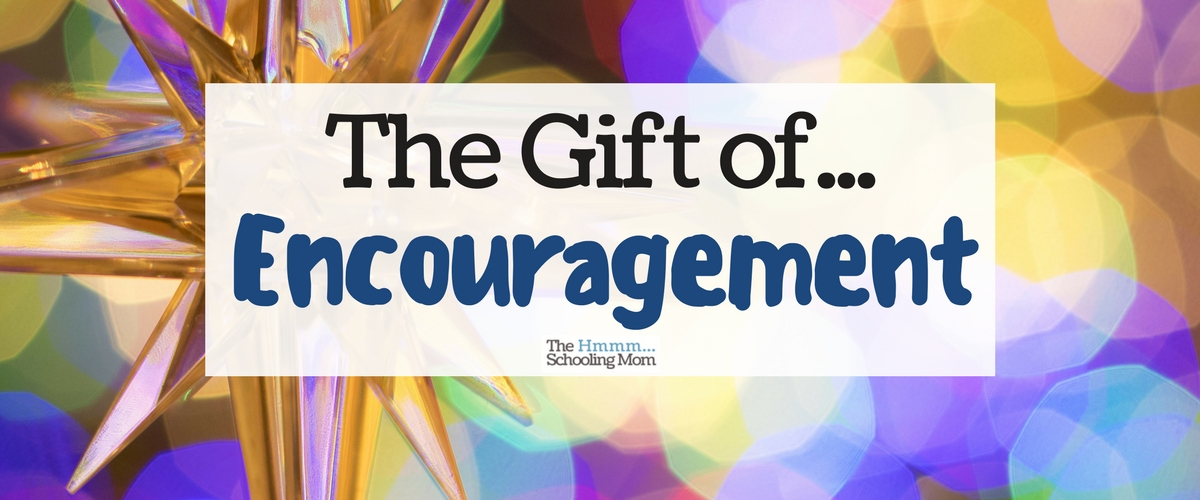 ** This post is part of a 14-day series. To read more of my "The Gift of…" posts, scroll to the bottom of this post for links.
In your day, you probably come across people who are a complete and total hot mess. People who don't know what end is up or down, and for whom there isn't enough coffee or wine in any store to get them through the day ahead.
Maybe some days that person is you.
In your day, you may also come across people who look like they've got it all together. They're confident. Organized. Their shirt is tucked in, their zipper is up, and they know how they're going to attack the day ahead.
Maybe some days that person is you.
Regardless of which person you're more like—because, let's face it, we can easily be either person on any given day—the truth is we're all pretty much punting through life and could use a little encouragement to help get us through.
Let me speak more clearly for the people way in the back: we're all punting.
And we all need encouragement.
We never know what other people are dealing with. A dwindling bank account? A kid with a personality disorder? A co-worker who continually steals their lunch from the break room?
Maybe they're struggling with a difficult decision. Maybe their cat didn't come home last night. Maybe it's been a long time since they talked to their dad. Maybe their furnace isn't working.
We never know how much a kind word will help.
For goodness sake, it can't hurt, can it? We could all use a boost to our day—a word of encouragement to let us know we're on the right track and that what we're doing matters.
As parents, where do we get encouragement?
Parents sometimes look into the eyes of their kids, hoping to find some encouragement there. And sometimes we hear it. Sometimes we hear Mama, you're the best or Dad, thanks for doing that or Mom, that was a super yummy cake and those moments are precious and sweet and tucked away in our memories.
But the truth is most of the time, kids don't know how full of awesome we are because they're just busy being kids.
So as moms and dads and adult human beings, we need to encourage each other.
Encouragement doesn't always mean what you think it means.
Sometimes encouragement means saying good job.
But not always.
Sometimes it means sitting with someone saying you tried your best. Or you did the right thing. Or next time will be better. Or you're right, that really sucks.
See, encouragement doesn't always mean yay, gold star.
Sometimes it's just actually seeing someone. Letting them know they matter. Asking them to help you solve a problem that you know they're genius enough to answer. Allowing them to walk through a situation with you. Noticing that thing they're trying to do and talking about it with them.
Encouragement doesn't have to be complicated. Encouragement oftentimes only requires paying attention, noticing something, and being awesome enough to bring it up.
And as much as we want to put a gold star sticker on everyone's chest, that's not always the way to encourage someone—especially if the gold star is a cheap substitute for an actual conversation.
Bits of encouragement that I remember…
Once, back when my kids were still toddling around in diapers, I got a note from a fellow mom who thanked me for being the kind of mama who would let my kids run around in the backyard and get completely covered in mud, because kids really needed to be able to do that and that she needed to remember to let her kids do that more.
What was that encouraging? Because way back at that time, I was pretty sure I was one of those completely insane mothers who would ruin her kids by letting them run free and make a mess.
Another time I felt encouraged was after a concert I was a part of at church. A member of the congregation approached me after our performance.
"You just look like you're enjoying yourself so much up there," he said. "It makes the concert that much more fun to watch."
Why was that encouraging? Because it's easy to feel like you blend into the crowd. It's easy to feel like, here we are, fa-la-la, and wonder if anyone out there watching comprehends how much the music—or the performance of it—actually means to you.
Yet another bit of encouragement that I remember came few years back, while I waited for my kids to be dropped off at a program we were attending. While waiting, I got deep in conversation with another mom. Suddenly, I spied my kids coming through the door and excused myself to go greet them.
When I came back to the conversation, the other mom said, "I've just got to tell you—I saw the most amazing thing just now. Do you realize how much your entire face lit up and your whole demeanor changed when your kids walked through the door? You just completely lit up!"
Why was that encouraging? Because it makes me realize that I'm not the crabby annoyed stressed out mom that I always imagine myself to be. The way my face lit up was a natural reaction to seeing my kids. One I wouldn't have realized was part of my expression unless I was standing in front of a mirror.
Luckily, someone else saw it and took the time to point it out.
Look for opportunities to

encourage

people.
In every moment, there are opportunities to encourage people—and to be honest, we're missing most of them. Take the time to see what people are doing, and then spend a moment or two pointing out that you see it.
Start a conversation. Discuss things. Let people know they matter. Resist the urge to encourage someone with a simple gold star, and dig deeper into something more meaningful.
Who can you encourage today?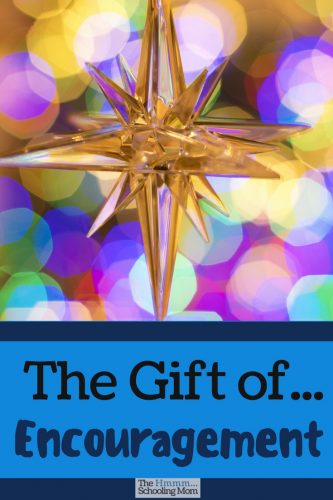 This post is part of a 14 day series, written across both sites that I run. 
Gift #1 — The Gift of an Open Door
Gift #2 — The Gift of One of Those Days
Gift #3 —The Gift of a Dog's Friendship
Gift #4 — The Gift of Mess
Gift #5 — The Gift of Our Silence
Gift #6 — The Gift of Routine
Gift #7 — The Gift of Community
Gift #8 — The Gift of Three Things Unsaid
Gift #9 — The Gift of Perspective
Gift #10 — The Gift of Being Real
Gift #11 — The Gift of a Bowl of Corn
Gift #12 — The Gift of Encouragement
Gift #13 — The Gift of Unanswered Prayers
Gift #14 — The Gift of Actually Listening
---