Snacking in Different Countries: Universal Yums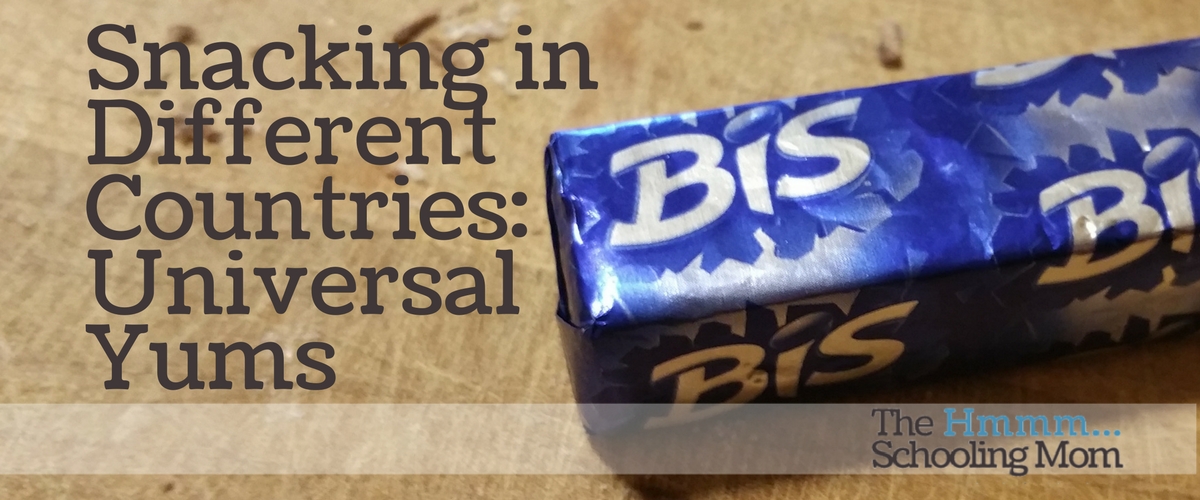 So, my boys like to eat. My boys also like to "try stuff", if it has to do with food. So when a friend in my favorite homeschooling group told me about Universal Yums, I knew it would be just the thing for us.
Universal Yums is a monthly box subscription that enables you to try snack foods from different countries. Every month a different country is featured. The first box we got was from Brazil. This is after I tried to put it back together for a nice picture…there is a lot of stuff hiding under there!
Universal Yums offers two size boxes in their subscription service. For $14 a month, you can get the Yum Box: it includes at least 6 different snacks to try. For $25 a month, you will receive the Yum Yum Box that includes at least 12 different snacks to try. We received the Yum Box ($14 every month), and in our Brazil box we received 9 different snacks. From those 9 different snacks, there were sometimes multiple offerings of a snack. So, your box might have 9 different snacks, but 14 or 15 actual items in the box. Make sense?
(You can also buy gift subscriptions to Universal Yums for 1 month, 3 months, 6 months, etc.)
Oh! And if you're on Twitter and have access to Periscope, you can see that I was really excited after we'd opened our first box from Brazil.
So here are some things we wanted to tell you about Universal Yums.
This is what the box looked like when we opened it. Do you see that tissue paper on the top? That's the Brazilian flag (without the blue circle in the middle). My 12 year old son thought this was the coolest thing ever because it proved that "real, actual people" put this box together and sent it to us. He kept saying, "that's such a nice touch!" I agree. If you want to read more about Monique and Eli, the couple that started Universal Yums, you can check them out here.
They have since discontinued the tissue paper flag. Instead, they now send you a scorecard that helps keep track of everyone's likes and dislikes of everything included in the box – super helpful!
The little booklet in the picture above is a life saver. It has trivia from the country of the month and a list that tells a bit about each of the snacks you'll be sampling. There's also a reminder that they made a playlist online for music from the country of the month. So while we were sampling all these Brazilian snacks, we were jamming out to the Brazilian music that was playing in the background.
How cool is that? Super cool.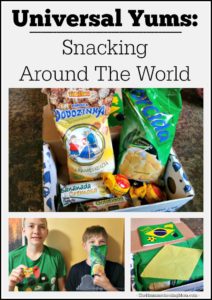 Since there are 4 people in our family, we cut every snack into four (if necessary. Sometimes there were four of the same thing included so we didn't have to, or there were two of the same thing so we only had to cut each in half.) The boys had such a blast trying all the snacks, describing them, and comparing them to something we have here in the states. Here are just a few of the things we tried: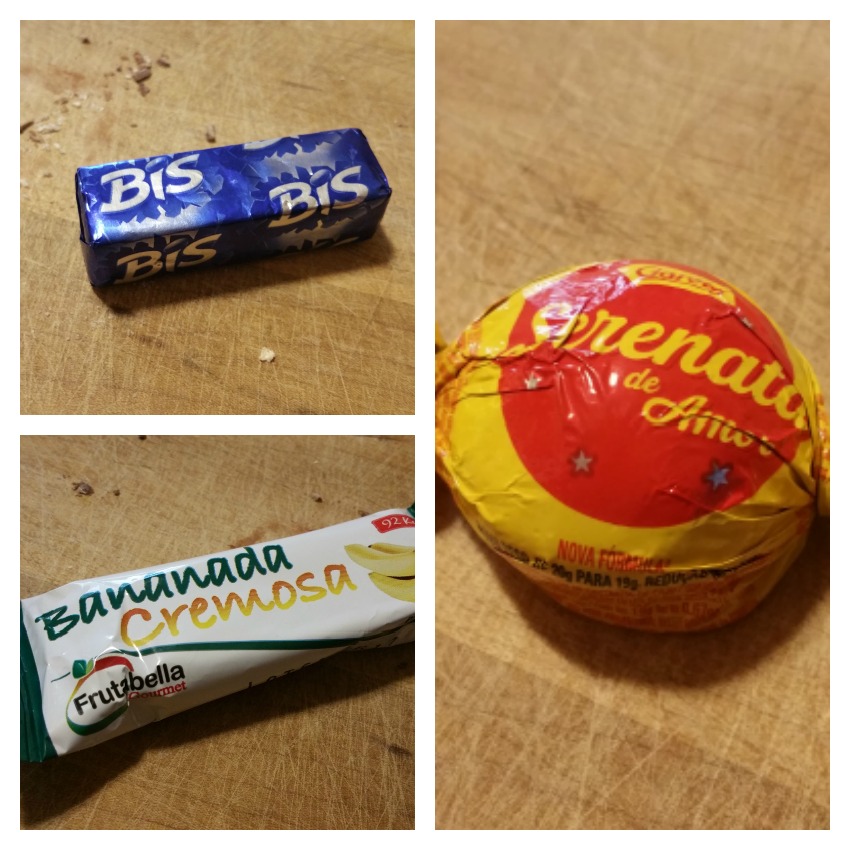 Bis was similar to a Kit-kat, Bananada Cremosa was pretty much super ripe bananas and sugar mashed together, and the Garoto Serenata de Amor Bon Bon was like a Reese's Peanut Butter Cup. There wasn't anything the boys didn't like. They did say the coffee candies that were included were "strong" but that was okay…because Mom got them. 😉
We decided that every month we would take a picture with our favorite things from the box. My oldest's favorite was Yoki Pacoca (a kinda sorta peanut butter fudge like thing) and my youngest practically inhaled the Torcida Pimenta Mexicana crackers, which were really yummy and peppery.
What an interesting way to study other cultures, right? If you're interested in checking out what past boxes have been included in the Universal Yums subscription, you can look at that here. All in all, Universal Yums was a fabulous experience and we're super excited to receive our next box!
Update: Here is a short video we made of a later box from Italy. Universal Yums is still as awesome as ever!
You can find out more about Universal Yums on Facebook, Instagram, and Twitter.
---