Homeschooling Older Kids: 5 Ways it Can Get Harder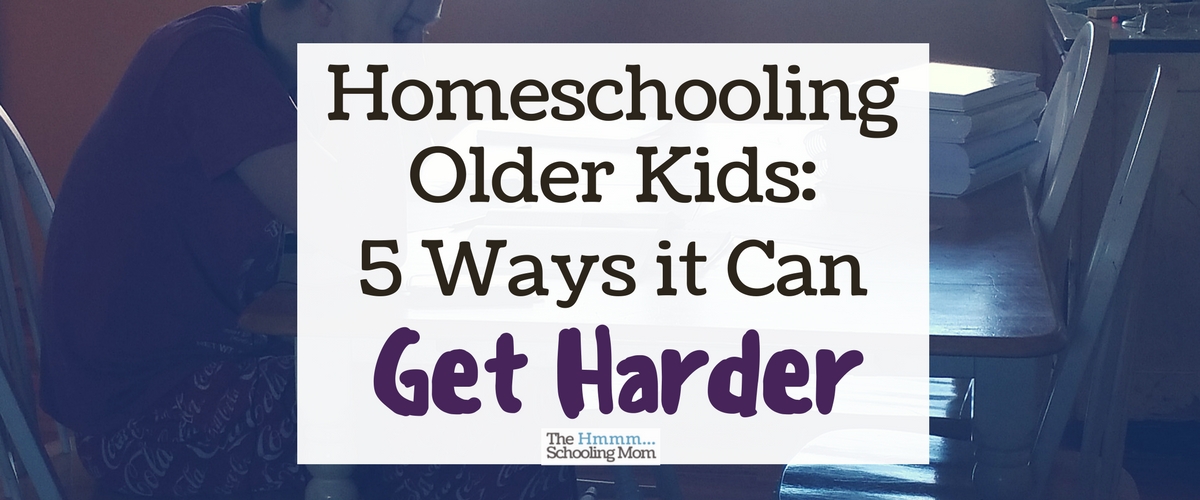 As luck would have it, we've been at this homeschooling gig for awhile. We're now entering the high school years, and while I don't want to change the path we're on, I can definitely admit there are some things that can get a little harder when you're homeschooling older kids. Here are five of them.
(Don't want to read all these words? You can listen instead by pressing play on the podcast player at the top of this post.)
1. School work: when homeschooling older kids, it can be more difficult and less fun—for both of you.
"Honestly? It's just not as fun. Am I allowed to say that?"
When you start out, homeschooling is super fun, right? Exciting, even.
Plus, it looks good in pictures.
A fellow homeschool blogger once joked that she'd lose all her social media followers if she posted pictures of what her teen kids were actually doing most days while homeschooling: sitting at the computer, doing online work. Or research. Or coding.
Let's face it—a picture of the back of your kid's head at a computer or doing book work is not nearly as exciting to look at as a picture of your kid doing a cute craft project.
As kids get older, school work can become more intense. It's not as "fun".
And yes, I think you—parent and child—are allowed to say that.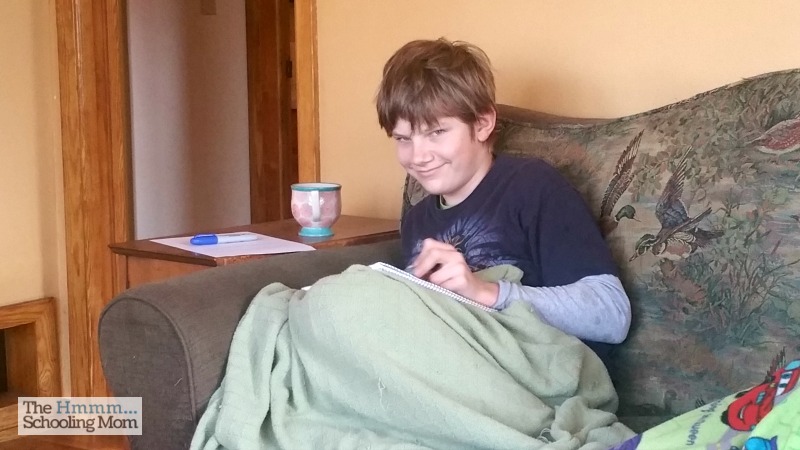 "I'm out of ideas."
When you start off homeschooling, it seems like the whole world is wide open. And when you're on fire right out of the gate, it can be easy to over-do.
Problem is, ten years later you're trying to find things the kids haven't done yet, and struggling with how to study new things in a hands-on way that doesn't seem beneath them.
2. Homeschooling older kids sometimes takes more money.
"The kids get older and homeschooling gets more expensive. I think it's just one of those things."
I felt like when my kids were younger, I could cobble things together for very little money to help my kids learn and explore. However, the older they get, the more specific their interests or needs are—and I can't always find those materials for cheap.
When your child's interests or abilities expand past what you can teach them, it means finding classes or tutors or different curriculum or activities—which almost always means more money coming out of the pocketbook.
"It has crossed my mind that if my kids were in public school, they'd have more opportunities to do bigger projects and experiments that I can't afford at home."
As kids get older, homeschool projects can be more pricey simply because a) they require more expensive materials and b) you're not getting a bulk discount.
It's that thing where you only need 1 tablespoon of an expensive ingredient for a science project, but you can only find the ingredient sold in super expensive 8 pound bags.
The struggle is real. Real, and expensive.
3. The dreaded "s" word still exists when you are homeschooling older kids…
"Remember park days when kids would just hang out and play together? Park days were awesome."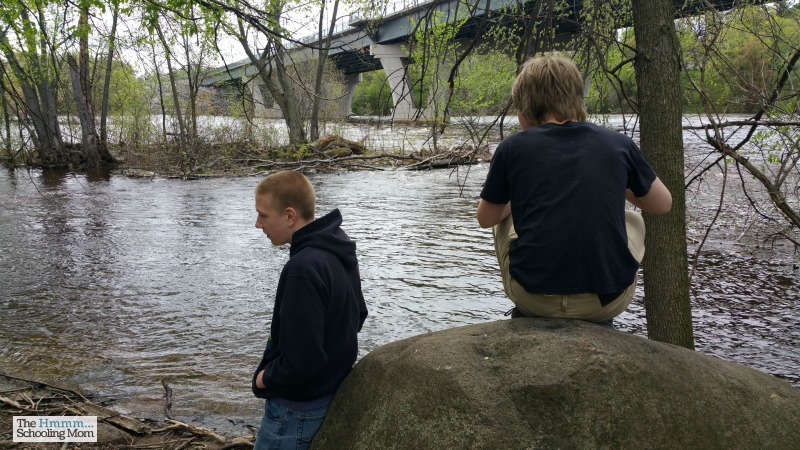 While you can toss a lot of young kids together at park day and they'll generally hang out together, try to do that same thing with a group of 15-year-olds.
I'll be waiting over here, giggling.
Some homeschooling parents advise that the later years of homeschooling are the years it's most important to be involved in a co-op or social group. It gives kids an excuse to get together. It gives you an excuse to get them together. Except…
"Where did all their friends go?"
There tends to be a mass exodus from homeschooling to public school as kids get closer to high school, and there are as many reasons for it as there are kids who make that choice.
So, finding a co-op can be great. Being part of a social group can work well. But if many of the local kids have gone back to public school…you'll find yourself at a brick (and mortar) wall.
It doesn't mean a lack of older kids can't be dealt with. It does mean, however, that you will have to work in order to overcome the issue.
4. Homeschooling older kids? Parents and teens can start to butt heads.
"What's hardest about homeschooling teens? Hormones. Attitude. Independence. Personalities. Oh my word."
Years ago, I talked with a mom who homeschooled one child all the way through high school, but had sent another child to public school at 9th grade. The mom explained to me that it was the only way she and her daughter wouldn't eat each other alive, and now both she and her daughter agree that public school was the main reason they survived her teen years.
Y'all. Hormones and attitudes and personalities can make or break a homeschooling experience.
"When we got closer to the end, I started to second guess everything. I was worried we'd missed something and I got crazy. Between my attitude and my daughter's…it was insane."
While homeschooling can mean freedom, it can also mean, all right, now we have to button down and get going… because transcripts and testing and high school and college and GAH!
You're nearing that point where you release your kids out into the world. Where you push them out of the nest. Are they going to fly….or fall flat on their face?
Sometimes you get hyper-stressed simply because you have a sneaking suspicion your kid really doesn't care about their future. At the same time, your kid is stressed out because you've suddenly gone from carefree, learning happens everywhere all the time! to memorizing important dates and names and doing daily math drills and OMG we need to prepare for the ACT!!!
5. Support for parents who are homeschooling older kids can be harder to find.
"My teen is into what she's into. It feels like the more individualized she gets, the harder it is for me to find stuff to help her out." 
When homeschooling older kids, it can feel like you don't have as many people to advise you in helping your kid because, unless you're using similar curriculum, everyone is doing different things.
In the early ages of homeschooling, kids have a lot of similarities. They're all going to figure out reading and spelling and how to write their name and what happens when they mix red with blue or baking soda with vinegar.
But as we get older, our horizons expand. Which is crazy, because at the same time, our interests are getting fine tuned. There's so much to explore, but you're also more conscious of what you prefer. So if you've got a kid who wants to revolve their education around electric guitar or sea mammal anatomy, that's great. But to find resources and people to support you in that journey?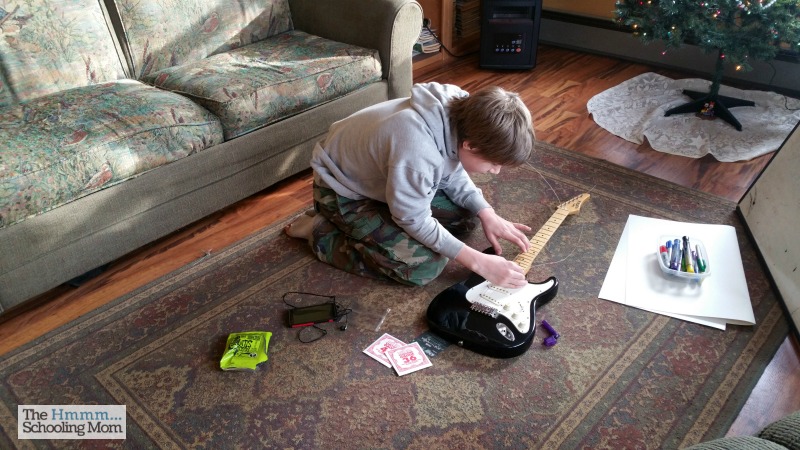 Again, the struggle. It is so real.
"Independence is great, but in those later years, it felt like it backfired a little bit."
Homeschooling can give our kids the opportunity to fine tune their interests, but that can also be isolating. It can be hard for you to know how to help your kid. Many people can suggest ways to teach kids to write their letters correctly. Where are all those suggestions to help you help your kid learn how to open their own gluten free cake and cookie delivery business?
"The resources and support just aren't there for the later years like they are in the beginning years. It's sad."
I'll be honest, many homeschool bloggers or leaders of homeschool support groups tend to drop out of the game as their youngest kids reach those later years of homeschooling. It's a catch-22. You know the support is needed because you need the support, but you don't know how to give the support because you're not getting any support.
Then again, sometimes the issue is that you just don't feel like you have anything left to say. It can seem easier to close up shop and focus on moving to the next phase of life.
So although it's understandable, it's also unfortunate—and we have to find a way to work against it. We don't stop needing support just because our kids hit a certain age or level of independence.
If you're looking for an online support group, consider joining The Hmmmschooling Hangout on Facebook. It's my contribution to support of homeschooling parents, regardless of what phase of the game they're in.
Here is a video to encourage you about homeschooling in the older years. It looks different, but in some ways…it's really not. It's a little bit about perspective.
Question: Are you homeschooling an older child? What things have you found to be harder about homeschooling now that you are homeschooling older kids?
Check it out! You can find all episodes of The Crazy Real, Real Crazy Podcast here at the site under my podcast tabor you can SUBSCRIBE to my Crazy Real, Real Crazy podcast at iTunes, Stitcher, and Google Play Music. Feel free to rate the podcast or leave a review. I'd super love it if you could! 
---